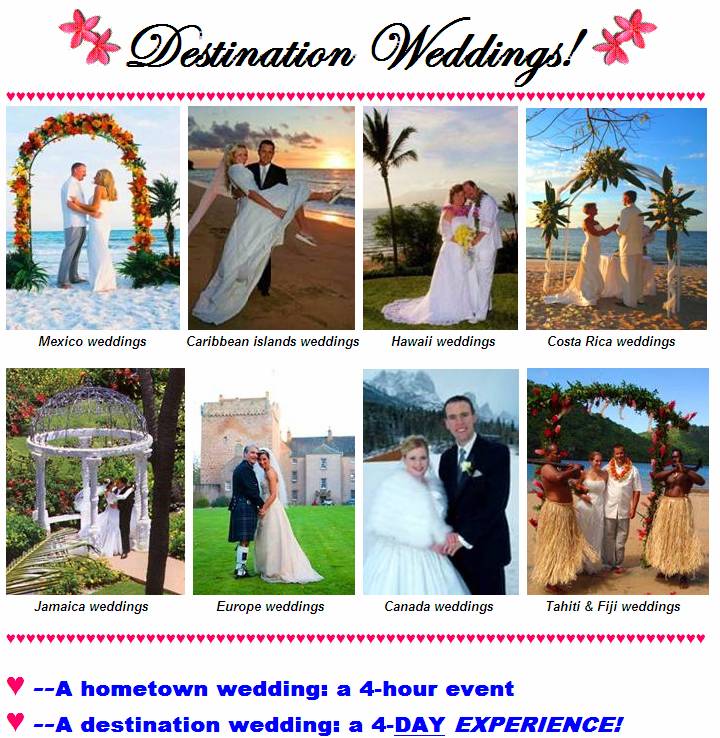 Have you considered having a destination wedding? They are much easier, more memorable & much cheaper to have!
Your TIKI TRIPS agent has planned many, many destination weddings in exotic locations around the country & world.
Let TIKI TRIPS make your wedding an exotic, worry-free experience & the most memorable wedding
that everyone in your group has ever attended!

Here are the BIG benefits of a destination wedding:
♥♥♥♥♥♥♥♥♥♥♥♥♥♥♥♥♥♥♥♥♥♥♥♥♥♥♥♥♥♥♥♥♥♥♥♥♥♥♥♥♥♥♥♥♥♥♥♥♥♥

♥ Pay 75% LESS to have your wedding in an exotic location than in your own hometown!
And in some cases, get the wedding FREE!! Components of a wedding can be much cheaper in an exotic location...
wedding stuff here at "home" is expensive!

Cost comparison example:
Bridal bouquet here: $150-$300 Bridal bouquet THERE: $15-$50 (or free!)
Wedding cake here: $200-$2000 Wedding cake THERE: $20-$100 (or free!)
**What a HUGE savings!**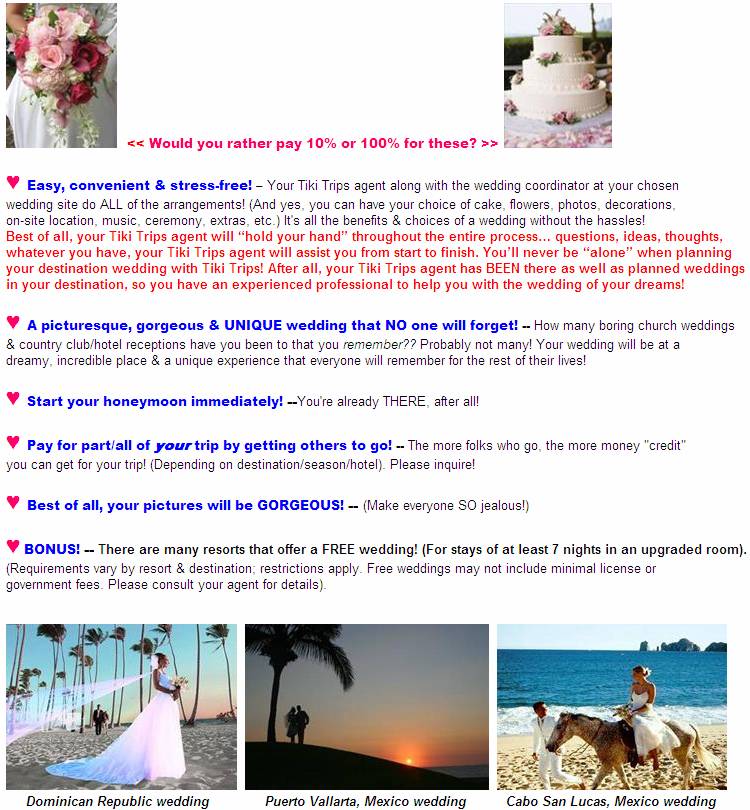 Basic wedding package usually includes: officiant, bridal bouquet, groom's boutonniere, cake, decoration of wedding
area, a couple of photos, champagne for 2, recorded music, wedding coordinator, other small extras, all for up to 8 persons.
All packages can be upgraded (for more guests, live musicians, more photos, cocktail party, private party/dinner, more
flowers, bigger cake, other extras, hairstyling, manicures, etc.) Basic package may not include government fees or license.
Wedding & resort inclusions & pricing vary by destination/resort & are subject to change without notice; restrictions may apply.
Please contact Tiki Trips for more details on your destination/resort!

Resorts offering FREE weddings* (minimum stay required):
PARADISUS~ MELIA~ COUPLES~ GRAND LIDO~ BREEZES~ PALACE~ SANDALS~ BEACHES~ EL DORADO~ more!

Resorts with inexpensive ($2000 or less) weddings:
IBEROSTAR~ RIU~ BARCELO~ SECRETS~ DREAMS~ EXCELLENCE~ OCCIDENTAL~ REAL~ FIESTA AMERICANA~
many more!
♥♥♥♥♥♥♥♥♥♥♥♥♥♥♥♥♥♥♥♥♥♥♥♥♥♥♥♥♥♥♥♥♥♥♥♥♥♥♥♥♥♥♥♥♥♥♥♥♥♥♥♥♥♥♥♥♥♥♥♥♥♥♥♥♥♥♥♥♥♥♥♥
For official, detailed destination wedding & policies information & how to get started,
please visit our destination wedding section:
http://www.tikitrips.com/destinationweddinginfo/info.htm
For more ideas & info about destinations & honeymoons in general, be sure to visit our "Honeymoons 101" section
for a "crash course" on planning your special honeymoon:
http://www.tikitrips.com/honeymoons101/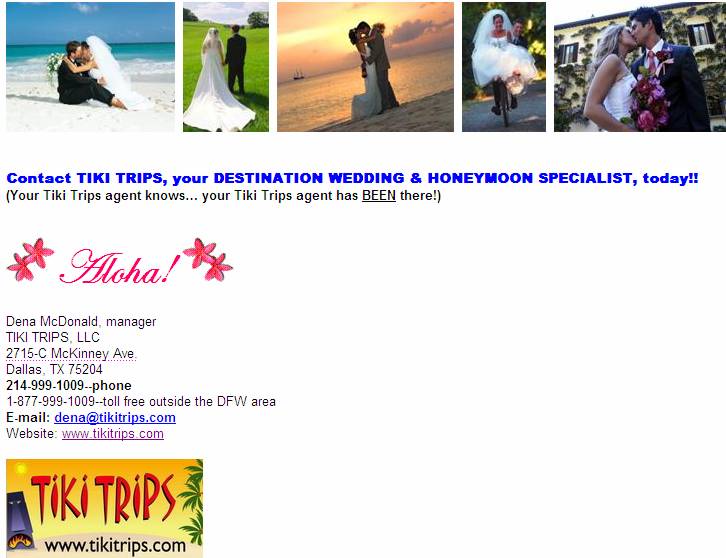 We SPECIALIZE in HONEYMOONS & DESTINATION WEDDINGS!
We would love to help you plan your next exciting vacation to:
HAWAII~ MEXICO~ CARIBBEAN ISLES~ BERMUDA~ COSTA RICA~ BELIZE~ BAHAMAS~
TAHITI/ BORA BORA/ MOOREA~ FIJI~ COOK ISLES~ AUSTRALIA/NEW ZEALAND~
U.S.A.~ CALIFORNIA~ VEGAS~ FLORIDA~ NEW YORK~ EUROPE~ ASIA~ AFRICA~ CRUISES~
Contact us today!
*Free weddings have minimum requirements that must be met to qualify for a free wedding; restrictions apply. Wedding & resort inclusions are subject to change without notice; please consult your specific destination/resort for the most current information.
All payments are non-refundable once made; please be certain of travel plans before payment. PASSPORTS ARE NOW REQUIRED FOR U.S. CITIZENS TRAVELING TO ANY INTERNATIONAL DESTINATION... get one soon! (Passports can be obtained through your local gov't tax office or main U.S. post office… please visit our website's main page at the bottom for more helpful info on obtaining a passport). Don't forget to re-confirm all flights with the airline 24 hrs prior to travel for any last-minute changes, & be sure to arrive at the airport 2 hrs before departure with proper identification. Happy travels!