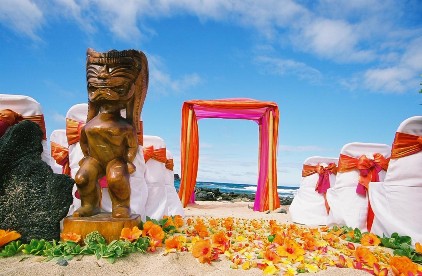 DESTINATION WEDDINGS--
How to get started!
© Copyright-- Tiki Trips LLC-- All rights reserved
Tiki Trips

specializes

in DESTINATION WEDDINGS & HONEYMOONS... we are the premiere travel agency at all of the major bridal shows in the Dallas/Fort Worth metroplex! Because of this, we do more destination weddings than just about any other agency in the area & have been participating in these major bridal shows longer than any other.

We have also been featured as the travel experts on TV & radio (NBC NEWS, CW Network/Channel 33, FOX NEWS RADIO, KRLD 1080, & many more!).

We pride ourselves in having been to each destination where we do weddings; therefore, you have an agent with experience & first-hand know-how, someone with many years in the travel industry & in the specialty of destination weddings. We also personally know many of the wedding coordinators & staff at the locales we do destination weddings, ensuring our clients the best treatment possible. In addition, Tiki Trips also offers unique & innovative features for our destination weddings that no other agency offers, thereby offering you the most for your destination wedding money & experience!
A destination wedding is an exciting, unique, money-saving, excellent alternative to a traditional hometown wedding. Instead of a 4 hour event, your wedding is a 4 day EXPERIENCE! (or longer, depending on how long you want to stay & where you want to go!). Due to its rapid growth in popularity, destination weddings are bigger now than ever before. Because of this, Tiki Trips is doing more destination weddings each & every year, with last year heralding a record number of destination weddings for our office. There are others who wish to imitate what we do & what we offer, so that certainly let's us know we are doing something right!
Contrary to popular belief, though, destination weddings are not easy; instead, they can be quite complicated. Destination weddings require you to think about many factors involved: choosing your destination, your hotel, your ceremony location, the elements of your ceremony, the legal factors involved with marrying in a destination away from home, what will make your family & friends happy, how best to set up the travel for everyone, how to handle the challenges involved with destination weddings, many things. Sounds like a lot, right? Don't worry, we at Tiki Trips have planned many, many weddings over the years in a wide variety of places around the world... we draw from rich experience (over 20 years in the industry!) when providing you as much information in advance so that you can better & more quickly make decisions about your destination wedding!
There are many things & many places to consider & many pitfalls to avoid when planning a destination wedding. You need professional assistance & advice to make sure you are doing the absolute best thing you can within your parameters (budget, timeframe,"want" list for the wedding/trip). The amount & depth of professional advice & assistance you have in planning your trip (adding in all of the details both big & small to make it EXTRA special), the better your trip will be! We can certainly assist travelers by phone for consultations & booking advice/assistance for their vacations, & we offer a free initial phone consultation to discuss your destination wedding; however, if you feel that you need a lengthy, more in-depth consultation to discuss your destination wedding (recommended) then we suggest you call us to schedule an appointment for a personal, in-office consultation. We recommend consultation appointments after-hours (after 6 pm) for the most uninterrupted discussion. Our fee is $75 per hour (cash only), applicable to your wedding deposit with us should you choose to book within 30 days.
In order to confirm an appointment for in-office consultation about your destination wedding, please click on the links below & read these pages in their entirety... it will be very important to have read what is contained on the webpages below so that we can discuss this information at our consultation meeting. These pages contain a lot of information that will not only be very helpful to you in making decisions about your destination wedding, but these links will also answer many of your basic questions before you come to our office so that we can spend your valuable consultation time discussing other important things.
Important destination wedding info links:
http://www.tikitrips.com/destination -- General destination wedding info & pictures
http://www.tikitrips.com/honeymoons101 -- Destination comparison info/planning a honeymoon
And, MOST IMPORTANT section to read:
http://www.tikitrips.com/destinationweddinginfo/info.htm -- FULL, detailed destination wedding policies/info
And... last but not least...
What our clients say about honeymoons, vacations & destination weddings we've planned for them:
http://www.tikitrips.com/triptestimonials -- Testimonials from actual Tiki Trips clients about their destination weddings, honeymoons & vacations around the world!
Note: There are many important things in the above links that we will be discussing in our consultation meeting. Therefore, we cannot confirm a wedding consultation until the information provided in the links above have all been read IN ENTIRETY. Once you have read these pages & are ready to move forward with a destination wedding consultation appointment, please contact us at the number below & we can get an in-office appointment scheduled & get started immediately.
Please respect the appointment:
Your appointment will be scheduled for one hour during the time allotted. Please be on time with payment for services rendered. If you are too early for your appointment, please expect to wait until your appointment time, as other persons & things may be scheduled before you. If you are late for your appointment, you may need to reschedule, so please make certain to allow for enough travel time to our office, especially during peak rush-hour traffic periods. If you no-show your appointment (no advance cancellation, at least 4 hours before arrival) then we will not be able to reschedule another until payment is made for the missed appointment. FYI, we are at 2821 McKinney Avenue next to Christie's & across from the 'MAT' (McKinney Avenue Tavern); best parking & our main entrance is on the back street on Howell St. Our office is on the first floor in suite 5... look for our door with the Tiki statues & surfboard to greet you! Please call us for directions or if you get lost on the way J
Note: We love kids, but due to the important nature of the consultation & to avoid interruptions & preserve many breakable items in our office, children (under 13) are not allowed at in-office appointments. Please make other arrangements for child care during this time.
Please call us with any questions. We look forward to planning your amazing destination wedding to the perfect place of your dreams!
Congratulations!
--The Tiki Trips Staff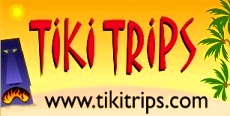 TIKI TRIPS® LLC ~ Certified Honeymoon & Destination Wedding Specialist
2821 McKinney Avenue, Suite 5 (in the heart of Uptown!)
Dallas, TX 75204
214-478-4200
E-mail: info@tikitrips.com
Website: http://www.tikitrips.com
We SPECIALIZE in VACATIONS, HONEYMOONS & DESTINATION WEDDINGS!
We would love to help you plan your next exciting vacation to:
HAWAIIAN ISLES~ MEXICO~ JAMAICA~ CARIBBEAN ISLES~ BAHAMAS~ BERMUDA
U.S.A.~ CANADA~ CRUISES~ COSTA RICA~ BELIZE~ CENTRAL & LATIN AMERICA~
TAHITI/ BORA BORA/ MOOREA~ FIJI~ COOK ISLES~ AUSTRALIA/NEW ZEALAND~
BRITISH ISLES~ EUROPE~ MEDITERRANEAN~ MIDDLE EAST~ AFRICA & SAFARIS~ ASIA
SPECIAL OCCASION TRIPS: HONEYMOONS~ DESTINATION WEDDINGS~ BIRTHDAYS~
BACHELOR//ETTE TRIPS~ ANNIVERSARIES~ PROPOSALS~ FAMILY REUNIONS~ CO. GROUPS
SPECIAL INTEREST TRIPS: SPORTS TRIPS~ SKI~ GOLF~ DIVE~ CULINARY/WINE TOURS~
ADVENTURE~ LADIES' TRIPS (HOME/GARDEN TOURS, SPA, SHOPPING)~ BUDDY WEEKENDS
Contact us today!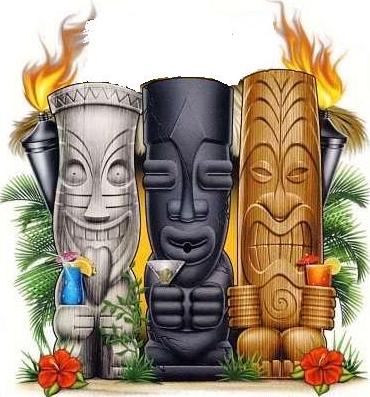 Would you like to travel the world
with a fun group of friends?
Come go with us, the TIKI HEADS!
http://www.tikitrips.com/tikiheads
HELPFUL LINKS for your trip:
http://www.tikitrips.com/toptenreasons -- Top 10 reasons to book with the Tikis!
http://www.tikitrips.com/testimonials.html -- Testimonials from Tiki Trips clients themselves
http://www.tikitrips.com/honeymoons101 -- Planning your perfect honeymoon
http://www.tikitrips.com/destination -- Destination wedding pictures & general info
http://www.tikitrips.com/destinationweddinginfo/info.htm -- Detailed wedding policies & info
http://www.tikitrips.com/passport.htm -- All about passports
http://www.tikitrips.com/strongarm -- Dangers of booking on the internet
vs. the safety/security of Tiki Trips!
All payments are non-refundable once made; please be certain of travel plans before payment. PASSPORTS ARE NOW REQUIRED FOR U.S. CITIZENS TRAVELING TO ALL
INTERNATIONAL DESTINATIONS (including MEXICO, COSTA RICA, CARIBBEAN ISLANDS, CENTRAL/LATIN AMERICA, CANADA & EUROPE/U.K.)... get one soon! (Passports
can be obtained through your local gov't tax office or main U.S. post office… please visit http://www.tikitrips.com/passport.htm for more helpful info on obtaining a passport). If
you are not a U.S. citizen, please check your country's consulate as to what is required for your travel, additional paperwork may be necessary for non-U.S. citizens. Don't forget to
re-confirm all flights with the airline 24 hrs prior to travel for any last-minute schedule changes, & be sure to arrive at the airport 2 hrs before departure with proper identification.
Happy travels!
Tiki Trips LLC & its affiliates are NOT responsible for, including but not limited to: schedule changes/delays of airline; flight seating arrangements (which may be at the
discretion of the FAA or airline); hotel room type/location provided vs. requested; physical conditions or overbookings of flight, hotel, car, tour, or any travel related item; activities
or restaurant reservations; inclement weather; acts of God, war, terrorism, strike or government action; illness or accident before, during or after travel; incidental extra charges
related to hotel, car rental, tour, cab or other trip incidentals (charges incurred during stay or rental); traveler's personal happiness; traveler's compliance (or lack thereof) with rules
& regulations of airlines & local laws, foreign or domestic while on their trip; personal conduct of traveler and/or traveler's companions of an illegal, destructive, abusive and/or
threatening nature while on their trip that may forfeit travelers' vacation plans with no refund or compensation given; traveler's lack of proper travel documentation,
immunization, visa, identification or any other elements required for travel; incorrect legal traveler name provided; late check in for flight, hotel, transfer, car, tour, or other travel
related item; travel insurance coverages (or lack thereof) & restrictions; or any other travel items or situations beyond the control of the travel agent & agency.
Please contact agency for further information.