Who said there's no such thing as a FREE LUNCH?! (or DINNER?)

There is with TIKI TRIPS!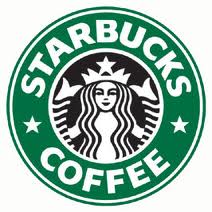 Beginning on Monday, October 25, 2010:
Refer your friends, co-workers, family members, next-door-neighbors... anyone you know to us at Tiki Trips...
For every referral that results in a fully paid & traveled booking, you get FREE LUNCH or DINNER
on us at CHIPOTLE! (Or, if you prefer, a gift card to STARBUCK'S instead!)
This is our new thank-you program to all our loyal friends & supporters of Tiki Trips...
we LOVE & APPRECIATE your support & want to show that to YOU!
Don't forget to let us know when you are referring someone NEW to us (or else we won't know!)
& we'll get them set up with a great vacation to the destination of their choice that we sell. It's that simple!
Once the referred person(s) has traveled, we will send you a gift card to you (to the address you provide,
or other arrangements can be made). Restrictions apply, see bottom of page for details.
Want to start those referrals ASAP? Need something now to refer on to your friends 'n folks? Here are some good places to start:
http://www.tikitrips.com/tikiheads -- All about the TIKI HEADS!
http://www.tikitrips.com/future -- See where the TIKI HEADS are going next!
(Coming up: Italy… Riviera Maya… Ireland… Barbados… Fiji… Caribbean cruise…)
http://www.tikitrips.com/honeymoons101 -- HONEYMOONS 101 -- crash course on planning a fabulous honeymoon
http://www.tikitrips.com/dwinfo -- Everything you need to know about DESTINATION WEDDINGS, by the experts at Tiki Trips!
As always, if we may assist you with travel arrangements anywhere in the world, please don't hesitate to contact us,
we are here & happy to help!
Mahalo,
gracias,
merci,
danke
&
t'ank ya, mon
!

TIKI TRIPS®, LLC ~ TIKI EVENTS & DECOR
2821 McKinney Avenue, Suite 5 (in the heart of Uptown!)
Dallas, TX 75204
214-999-1009--phone
1-877-999-1009--toll free across the U.S.A.
E-mail: info@tikitrips.com
Website: http://www.tikitrips.com
We so appreciate your referrals… they are the greatest compliment you can pay us!
Please let us know when you are sending folks our way J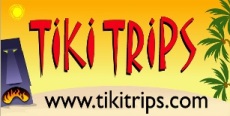 We SPECIALIZE in VACATIONS, HONEYMOONS & DESTINATION WEDDINGS!
We would love to help you plan your next exciting vacation to:
HAWAIIAN ISLES~ MEXICO~ JAMAICA~ CARIBBEAN ISLES~ BAHAMAS~ BERMUDA
U.S.A.~ CANADA~ CRUISES~ COSTA RICA~ PANAMA~ CENTRAL & LATIN AMERICA~
TAHITI/ BORA BORA/ MOOREA~ FIJI~ COOK ISLES~ AUSTRALIA/NEW ZEALAND~
BRITISH ISLES~ EUROPE~ MEDITERRANEAN~ MIDEAST~ AFRICA & SAFARIS~ ASIA
SPECIAL OCCASION TRIPS: HONEYMOONS~ DESTINATION WEDDINGS~ BIRTHDAYS~
PROPOSALS~ BACHELOR & BACHELORETTE TRIPS~ ANNIVERSARIES~ GRADUATIONS~
FAMILY REUNIONS~ CORPORATE INCENTIVE GROUPS~ BUDDY WEEKENDS
SPECIAL INTEREST TRIPS: SPORTS TRIPS~ SKI~ GOLF~ DIVE~ ADVENTURE~
CULINARY/WINE TOURS~ LADIES' TRIPS (HOME/GARDEN TOURS, SPA, SHOPPING)
Contact us today!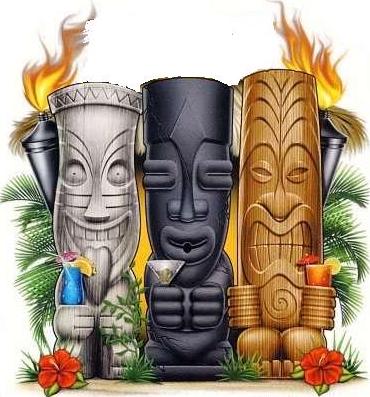 Would you like to travel the world
with a fun group of friends?
Come go with us, the TIKI HEADS!
http://www.tikitrips.com/tikiheads
HELPFUL LINKS for your trip:
http://www.tikitrips.com/future -- Future upcoming Tiki trip specials around the world!
http://www.tikitrips.com/toptenreasons -- Top 10 reasons to book with the Tikis
http://www.tikitrips.com/triptestimonials -- Testimonials from Tiki Trips clients themselves
http://www.tikitrips.com/honeymoons101 -- Planning your perfect honeymoon
http://www.tikitrips.com/dwinfo -- Destination wedding pictures, policies & info
http://www.tikitrips.com/passport.htm -- All about passports
http://www.tikitrips.com/strongarm -- Dangers of booking on the net vs. safety/security of Tiki Trips!
Please see our sister company TIKI EVENTS & DECOR for complete wedding decor of your hometown wedding or event: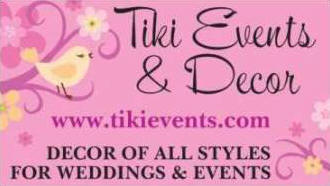 Have your wedding or event decorated for less hassle & cost than doing it yourself!
Person(s) referring traveler(s) to Tiki Trips are responsible for notifying Tiki Trips IN WRITING the legal names of the person(s) they have referred to Tiki Trips in order to qualify for the gift card; notification of same must occur before the referral travel commences. After the travel is completed, transaction is closed & completed & no referral credits will be given. Restrictions apply to "FREE LUNCH or DINNER at Chipotle or Starbucks" promotion. For each referral by an individual of a new, previously unknown client referred to Tiki Trips that results in a FULLY PAID booking by TIki Trips in its offices, the referrer will receive either a CHIPOTLE gift card or STARBUCKS gift card worth at minimum, the value of $10 (amount is decided solely by Tiki Trips management, depending on referral). Gift card will be issued AFTER referred person(s) travel is completed. For groups, this promotion is valid for someone referring a group considered as ONE booking, not as individual persons & may not be applied to travelers themselves in the group (promotion not valid for referrer's personal travel). Gift card is not exchangeable for cash & is non-transferrable. Limit ONE gift card per referred paid-in-full traveled booking, no matter how many persons are on the booking. Persons may not earn gift cards for booking their own personal trips. If the referral is in question over two or more persons referring, Tiki Trips will give the referral reward to the first person who notifies Tiki Trips of his/her referral IN WRITING. Offer is good for new bookings made on or after October 25, 2010, & is not retroactive. No gift cards will be issued for referred bookings made before this date. Tiki Trips reserves the right to change and/or end this promotion at any time without prior notice.
All payments are non-refundable once made; please be certain of travel plans before payment. PASSPORTS ARE NOW REQUIRED FOR U.S. CITIZENS TRAVELING TO ALL INTERNATIONAL DESTINATIONS (including MEXICO, CARIBBEAN ISLANDS & CANADA)... get one soon! (Passports can be obtained through your local gov't tax office or main U.S. post office… please visit our website's main page at the bottom for more helpful info on obtaining a passport). Don't forget to re-confirm all flights with the airline 24 hrs prior to travel for any last-minute changes, & be sure to arrive at the airport 2 hrs before departure with proper identification. Happy travels!